May 4-10
"A Light … That Can Never Be Darkened"
PERSONAL STUDY NOTES
Use this two page file to record your feelings about the suggested topics from this weeks reading.


Sunday School Notes for Home Study
By Garvin Smith
Select comments from General Authorities and General Officers of the Church on scriptures from this weeks Come Follow Me Sunday School Lesson. Brother Smith uses the LDS Scripture Citation Indexto research the weekly scriptures and find and compile pertinent comments from our leaders, with citations. There are 26 pages in this weeks notes!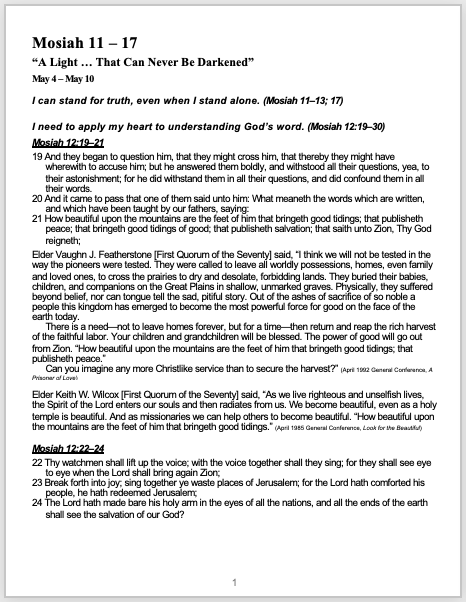 Scripture Figures
As you discuss Mosiah 11-17, use these scripture figures to retell the story.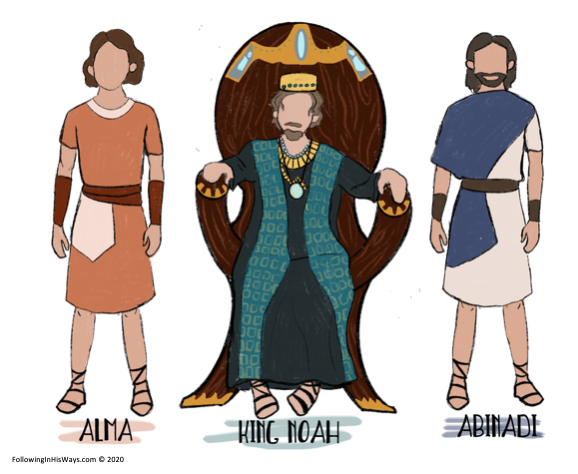 Written in My Heart
As you read Mosiah 12:33–37;13:11–24 discuss what it means to have God's commandments "written in your heart" - write or draw your ideas on this heart coloring page.
Descriptions of Jesus Christ Wordsearch
As you study Mosiah 14 find words and phrases that describe the Savior and find them in this Wordsearch Puzzle!
What if? Activity & Treat
Do this activity after you read aloud and discuss Mosiah 15:26–27; 16:1–13 asking what would happen if Jesus Christ never came into the world.
For the activity, print out the cards and cut out. Give each person a card and a pencil. Think of something in your own life that would have been very different if there was no Savior and write it on your card. When everyone is done, pass your card to the person on your left. Take turns reading the cards and talk about how that thing would be different and how you would feel about it. (example...when I copied answers off my classmate's test, or, when Grandma died, etc)

"What If" dinner
Jesus is our POWER. If he had not performed the atonement, everything would be different! The challenge for dinner tonight is to make a meal with what you have in your house, but you can only make it as if there were NO electricity (including refrigeration). No electric lights. No electric can opener. No electric stove or oven or other appliance. If you are able to use camping equipment, that would be OK, as long as it doesn't require electricity!
Weekly Study Assignment Search
Have fun as a family digging in your scriptures to solve this week's Scripture Search!